West Des Moines shop marks 20 years of safe work
Jan 18, 2023
They crawl and climb into extremely tight spaces, regularly use new tools, and – when not contending with the elements – battle ever-changing traffic conditions on public roadways. The team at the West Des Moines Shop has pushed through it all, working safely for more than 20 years.
"Every member of this team is focused and dedicated to our safety culture and being a great Wingman," says Des Moines District Production Manager Tim Chambers. "That's what it takes to reach a milestone like this. This team is proud of its record, but knows it only takes one person getting hurt for it all to go away."
Officially reaching 20 years without a lost-time incident in late spring 2022, the team of 15 faces a different set of challenges from other Martin Marietta crews, says Shop Manager Ricky Davis.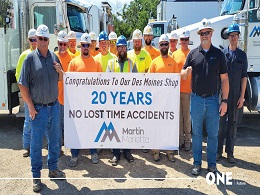 While most company teams have daily opportunities to grow familiar with their operations and equipment, the West Des Moines Shop employs mainly truck drivers and skilled maintenance workers – professionals whose talents are in high demand at operations across the district.
To cope with the changing work environment, the crew takes a number of steps to make sure safety The crew at the West Des Moines Shop hasn't experienced a lost-time incident in more than 20 years. THE WEST DES MOINES SHOP: remains the top priority, say Chambers and Davis.
First, the group talks about safety constantly while regularly discussing task, site and schedule changes that could potentially disrupt conditions or create hazards. Next, because most team members have highly specialized skills, most have gone through apprenticeships or certification programs that promote safe work practices.
"We also have a good mixture of experience levels," Chambers says. "Some of our people have been here for 10 or 20 years. Our managers have also been around a long time, so they're excellent coaches. They know how to effectively explain how things work."
Agreeing with Chambers' assessment of the team, Davis says the 20-year streak is largely the result of individuals prioritizing safety daily in their attitudes and actions.
"No one here hesitates when it comes to speaking up," he says. "None of us are afraid to call someone out if they're doing something that isn't 100 percent safe. From a management perspective, that's something we encourage. We want everyone to know that they have the power to stop work at any time."