Staying engaged
Denver quality control team avoids complacency, reaches 8 years of safety
Jan 18, 2021
"For us, the day-to-day work all depends," says Alec Neumann as he pauses a moment to reflect on the Denver Metro Ready Mix Quality Control team's safety success. "We test samples from the truck at the plant, but we also test right on the jobsite. On a given day, a technician in the field may climb up and down a few dozen truck ladders to ensure the concrete's consistency and quality before the driver unloads. It's important that we coordinate with our drivers, dispatchers and others to ensure everything runs safely and smoothly."
No matter where the work takes them – the plant where the concrete is made, the increasingly dense roads of metro Denver, or the ever-changing jobsites where concrete is poured in a variety of conditions – the 16-member team prioritizes safety. Recently the group celebrated eight years without a safety incident.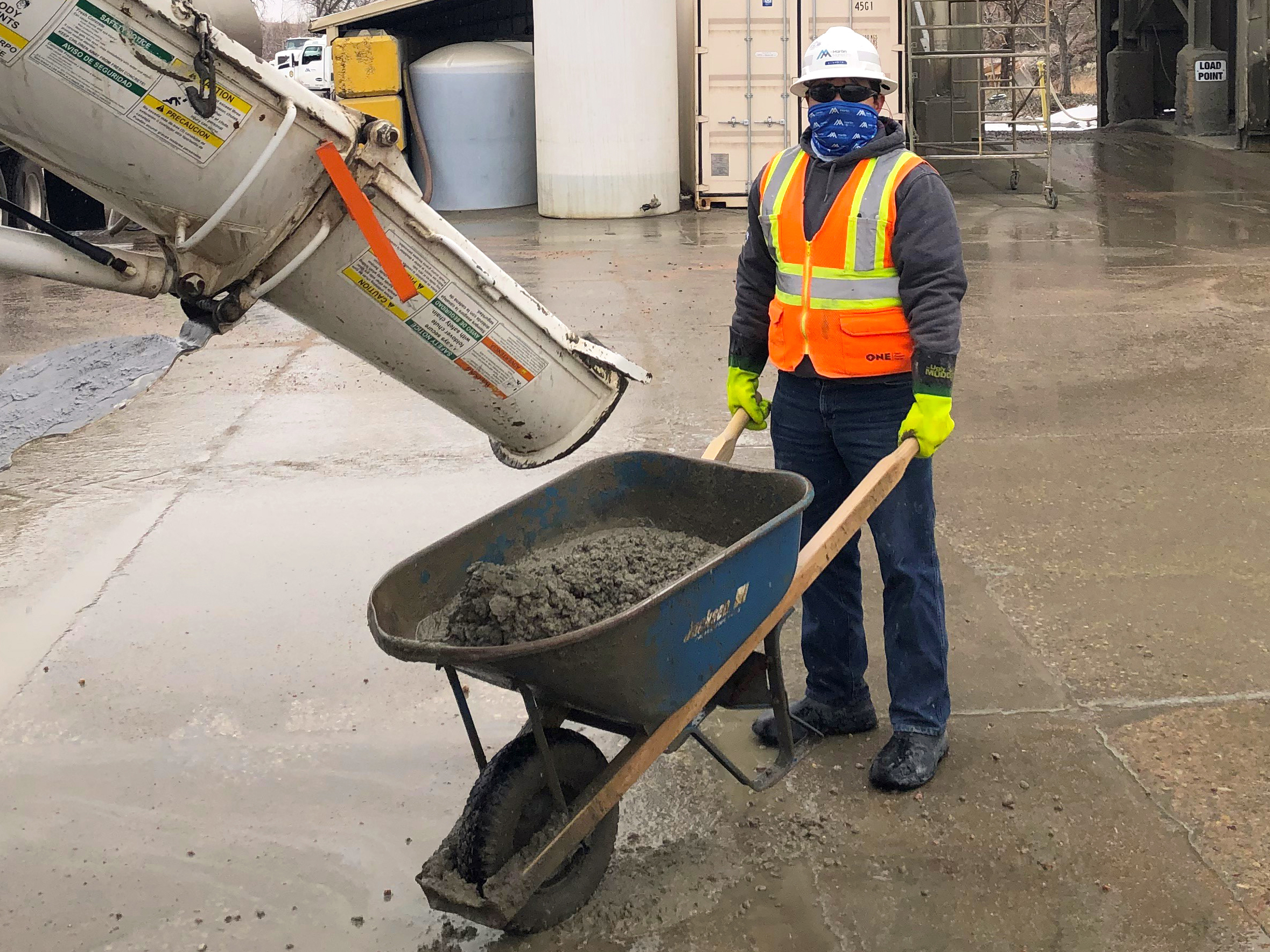 Kurt Barnard, a quality control technician and the team's safety mentor since 2018, has 14 years on the job and says there have been many developments to spur safety since Martin Marietta took ownership of the area's ready mix operations nearly a decade ago. Noting the adoption of the Guardian Angel safety culture, the implementation of the Safety Mentor Program, increased employee engagement, and technical changes like utilizing mobile technology to ensure strong communication between customers, drivers, dispatch and management, Barnard says staying safe still comes down to individual choice.
"In ready mix, the most important thing to remember is that conditions change quickly. Just because one truck was able to safely make a pour, for example, doesn't mean the next one will be able to," he says. "I tell every member of our team that it's important take a moment to catch your breath. Our business is fast-paced and so it's valuable to slow down and evaluate the situation."
Technical Services Manager Matt McCombs, the team's leader, has nothing but praise for his people, but is quick to note that such an extraordinary safety performance is rarely the result of one team's efforts alone.
"It's our collective focus on safety that makes the difference," he says. "When you're really focused on developing a safety culture, you realize that the best way to do that is to walk the walk. In Colorado, the entire business, from top to bottom, is focused on zero incidents, which creates an environment of mutual accountability."
Not content to simply celebrate their success, members of the Denver Metro Ready Mix Quality Control team say they're committed to working safely for another eight years and beyond.
"We have to avoid becoming complacent," Neumann says. "We have to be aware of the hazards that are around us and understand our environment. If we can do these things and continue to focus on safety every day, I think another eight years is definitely achievable."