Company secures naming rights for Raleigh performing arts venue
Jan 18, 2023
In a move that both benefits the community and shines a literal spotlight on the company brand, Martin Marietta has purchased naming rights for Raleigh's premier performing arts venue.
Soon to be known as the Martin Marietta Center for the Performing Arts, the venue hosts more than 600 events annually that draw more than 400,000 visitors and generate more than $35 million in economic activity for local businesses.
The 20-year deal, which was approved by the Raleigh City Council on Nov. 1, begins in early 2023. Included in the plan are two five-year options that would extend the naming agreement through 2053.
Speaking before the City Council in advance of the unanimous vote, Chairman and CEO Ward Nye said the naming rights opportunity was perfectly timed for Martin Marietta.
"Now is the time for us to broaden our partnerships with our Raleigh community, and, more meaningfully, demonstrate our fidelity to that community," Nye said. "The Center for the Performing Arts has been one of North Carolina's premier performance venues for nearly a century. As this beautiful building begins the next chapters of its storied history we should all be excited that it will bear the Martin Marietta name."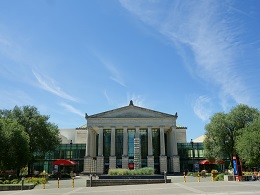 Built in 1932, the performing arts center (long known as the Duke Energy Center for the Performing Arts) was designed to complement the North Carolina State Capitol. It is home to several event spaces capable of seating between 150 and 2,369 people, and hosts five resident performance companies: Carolina Ballet, North Carolina Theatre, North Carolina Symphony, North Carolina Opera and PineCone – an organization dedicated to the preservation of North Carolina Piedmont Music.
After the Nov. 1 vote, Kerry Painter, director/ general manager of the Raleigh Convention and Performing Arts Complex (operator of the Center for the Performing Arts), said she looks forward to working closely with Martin Marietta to promote the arts across the region.
"We will have a great partner in Martin Marietta," she said. "It is evident that Martin Marietta takes pride in our shared community, and we are proud to work with them as we continue to provide world-class performances to our guests."