Pipeline project a boon for West Virginia communities
Martin Marietta contributions improve state's infrastructure
Mar 02, 2022
Cutting through some of the roughest terrain in the United States, the Mountaineer Xpress Pipeline has brought far more than just cleaner fuel to the people of West Virginia.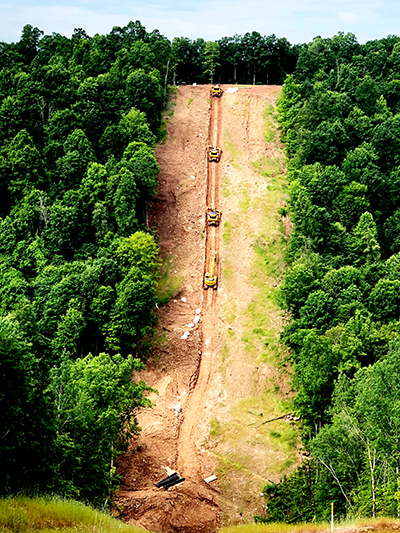 The $2.1 billion pipeline extends nearly 170 miles from the north of the state to its far west. Crossing 10 counties, the pipeline lies entirely within the Appalachian Mountains, which made its construction challenging.
"This pipeline goes through some of the most rural parts of the country and when they began, they learned quickly that the infrastructure wasn't great," said Joseph McCallister, a senior sales representative in the Ohio District and Martin Marietta's lead representative on the project. "We first discussed this job about a year before construction began because the contractors realized they would need to create roads in order to bring in their equipment."
Working with several contractors, including Pittsburgh, Pennsylvania's Lindy Paving Inc. and Ellison Dozer & Service in West Virginia, Martin Marietta provided more than 260,000 tons of material that was used for roads, pipeline support and three compressor stations built to keep the natural gas flowing efficiently.
Much of Martin Marietta's contribution to the project came from Burning Springs Mine, which lies along the pipeline's path. Other materials were supplied by the company's Parkersburg Yard, which is located nearby on the Ohio River.
"This was an all-hands-on deck situation to provide as much stone as we could," McCallister said, adding that the company's customers recognized the extraordinary effort. Tim Ellison, owner of Ellison Dozer Service, said he was extremely pleased with Martin Marietta performance.
"I was very satisfied with the fact that throughout the project, Martin Marietta never ran us out of stone, always had availability when needed and worked with us on our delivery schedule as the project progressed," Ellison said.
Since supplying the project with material between 2017 and 2019, McCallister said Martin Marietta has been called upon several times to provide materials for maintenance along the pipeline. While this residual work has been important for the company, it's the project's overall impact on the community that has impressed McCallister most.
During the construction phase, the project employed more than 9,000 people across the state; since the pipeline opened, numerous other jobs have been created in related industries. According to estimates, the project has yielded $2 billion in economic benefits for the local economy. Additionally, the states of West Virginia and Virginia now have improved access to a cleaner source of energy.
"This project has brought so much good to the state and we're proud to be part of that," McCallister said. "Still, for me, it's the infrastructure. When the pipeline came through, it brought more electrical services and other utilities. I've driven on these country roads for my entire life and they can be scary in places. The infrastructure brought in to accommodate this project has made many of those roads safer."