Martin Marietta teams score high praise
Feb 16, 2023
Over the course of last year, Martin Marietta, through the core values of the company and the dedication of its people, earned several major industry awards.
This is perhaps best illustrated by the sheer amount of honors awarded by the National Stone, Sand & Gravel Association (NSSGA).
In 2022, Martin Marietta led all member companies with the most awards won by an organization for the third year in a row.
At the top of the list, company sites took home a Safety Excellence Award at nearly every level, with San Pedro Quarry in Texas securing bronze, Onslow Quarry in North Carolina achieving silver and Benson Quarry in North Carolina earning gold.
"To be nationally recognized as one of the country's safest large-operation mining locations is no small feat. Still, if you knew any of the employees at Benson, this wouldn't surprise you at all," said Wes Sanders, a safety manager for the East Division. "Their commitment to the Guardian Angel culture, daily communication and unwavering dedication to the recognition and avoidance of hazards continues to lead the way to our goal of zero."
Likewise, Jordan Shore, plant manager, said he was proud of his team and also attributed the honor to the collaboration of his people.
"This award was achieved because the crew at Benson works so well together. They truly care for one another's safety and they look out for each other," he said. "They all bring good ideas to the table and work together to make them happen. There are no rules or policies that can make this happen, it comes from having the right people in the right places, and I believe we have that at Benson Quarry."
In total, Martin Marietta earned over 200 Safety Award certificates from NSSGA.
Along with safety, NSSGA also honored several Martin Marietta sites that excelled in community relations.
Two dozen sites – from Georgia, Oklahoma, Texas, Colorado, California, Florida, Louisiana, North Carolina and Missouri – earned bronze-level recognition, with Maryland's Churchville Quarry and Texas' Hunter Stone winning silver-level distinction.
Lisa Rogers, office manager at Hunter Stone, said the team believes they stood out from the competition because of the "large volume of community activities" in which the site is involved.
"Our team believes in a strong and active community engagement program," Rogers said. "We want our community to think of Martin Marietta as their partner. This belief has helped us develop a positive relationship with many local organizations and neighborhoods."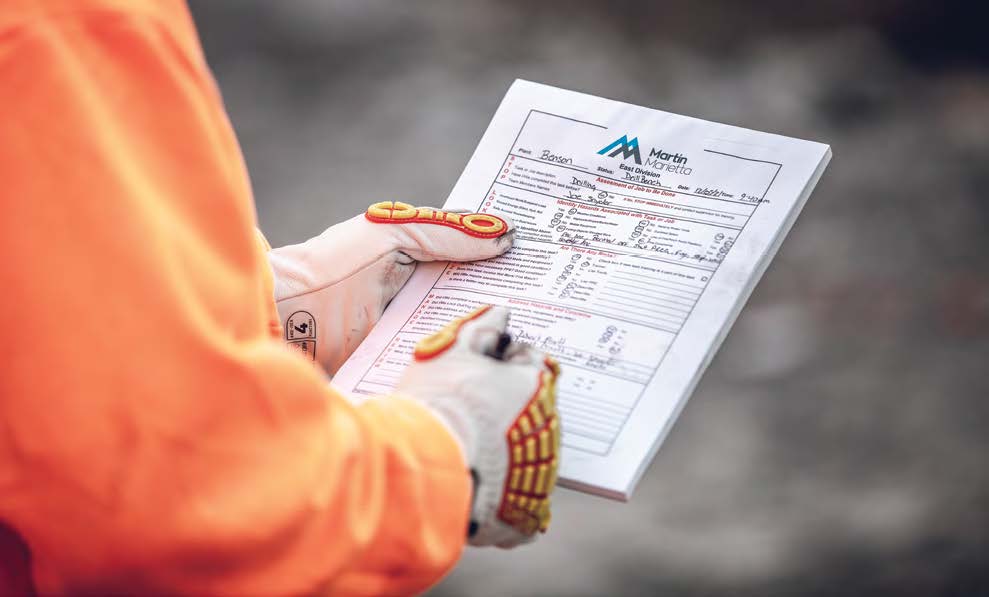 Continuing the winning trend, Ball Ground Quarry in Georgia; Hatton, Jones Mill and Black Rock quarries in Arkansas; Hunter Stone and North Austin Quarry in Texas; Greenwood Quarry in Kansas; Bonds and Fuquay quarries in North Carolina; and Granite Canyon Quarry in Wyoming all won gold from NSSGA for their excellence in environmental measures.
"The team that we have here works very hard to ensure we do everything we can to be good neighbors and environmental stewards," said Trevor Thompson, assistant plant manager at Granite Canyon. "It feels good to have our crew recognized by such a prestigious organization."
Additionally, East Division Senior Environmental Engineer William Rasmussen said one particular project helped Ball Ground Quarry swim past the competition.
Last year, the site constructed zero-impact bridges across two creeks with a known endangered fish – the Cherokee Darter.
"The construction of these, roughly $1 million, half-culvert bridges and additional best management practices helped our operation avoid building in the sensitive creeks," he said.
"A good portion of the employees at Ball Ground live either right next to, or near, the quarry, and it always feels good to preserve the integrity of the environment, especially in this small tight-knit community."
Martin Marietta also earned over 55 silver and bronze distinctions in environmental excellence.
But last year's awards didn't come only from NSSGA.
Martin Marietta also saw awards in other business lines, including ready mixed concrete.
As a member of the National Ready Mixed Concrete Association, or NRMCA, upwards of 40 Martin Marietta locations across Texas and Colorado won gold-level honors in safety excellence with the Southwest Division also winning the Excellence in Quality Award.
"I believe this award is not only symbolic of the technical expertise our teams bring to market, but also their unwavering focus on operational excellence," said Derek Gordon, regional vice president and general manager for ready mix operations. "This honor directly correlates to our commitment to prioritizing value over volume. Receiving industry honors such as this further reinforces our commitment to world-class standards of excellence."
Another site in Texas that earned a prestigious award was Hunter Cement, which was recognized for its zero reported incidents.
Every year, the Portland Cement Association (PCA) gives its Chairman Safety Award to member cement plants that do not have a recorded injury or illness during the year. Hunter Cement was one of just nine plants that achieved this milestone in 2022.
"Safety at Hunter Cement is not just a business priority, it is part of our culture, a promise between ourselves and with our families that we will return home every day the same way we came to work," said Aaron Garcia, Hunter
Cement's plant manager. "We build safety one day at the time, and when every one of us does it, we all build a better place to work."
Along with the national awards many quarries also won state-dedicated honors. Sites in Texas, Iowa, Missouri, North Carolina, South Carolina, Georgia, Indiana and Ohio all won awards at the state level.
When taken together, it is clear that 2022 was certainly a year of high achievement for Martin Marietta and its people.