Company aids river cleanup near Austin
Jan 18, 2023
Southwest Division team members near Austin removed six trailers of trash from the Colorado River in November while participating in the annual LoCo Trash Bash.
According to organizers, the event has removed 22 tons of trash from the water and the banks of the Colorado since beginning in 2018. This year marked Martin Marietta's second as an official participant and sponsor.
"We had more people than last year and were able to pick up more trash," said Environmental Engineer Jayde Young, who worked with Ready Mix Operations Manager Brian Ridlon and Ready Mix Regional Vice President-General Manager Wesley Salem to plan the company's participation.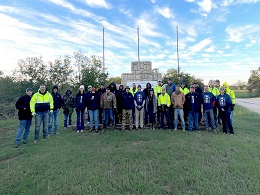 "It was a great opportunity for us to get to know each other better while putting our values into practice." Ridlon said the group of about 45 volunteers worked at two locations along the river for about 8 hours. In total, the team removed six 22-foot trailers filled with trash, four from one area and two from the other.
In addition to providing the volunteer time, Martin Marietta also provided a $5,000 donation to serve as a "Bald Eagle Event Sponsor."
"It was an extremely satisfying experience," he said. "It was great to see so many of our people working outside of Martin Marietta while displaying that same exceptional level of teamwork. We all felt great afterward. From the first piece of trash we removed to the last, every moment of that day made a difference."