Front-Line Leader Institute concludes successful 2019 campaign
Dec 15, 2019
It was the first time the company had organized the three-part series in several years. By all accounts, this year's Front-Line Leader Institute was a raging success.
In mid-November, a group of foremen, superintendents and assistant plant managers completed the final section of the program, venturing to Raleigh to learn more about Martin Marietta's overall business strategy and tour the newly constructed central lab in Garner, North Carolina.
The workshop followed two others – one in March in Raleigh and the second over the summer in Denver, where the group learned about several company product lines.
"Our 2019 Front-Line Leader Institute definitely had some large goals," said Director of Talent Development Brad Geiger. "Overall, we hope each of these leaders came away with a greater understanding of Martin Marietta and their respective roles within it."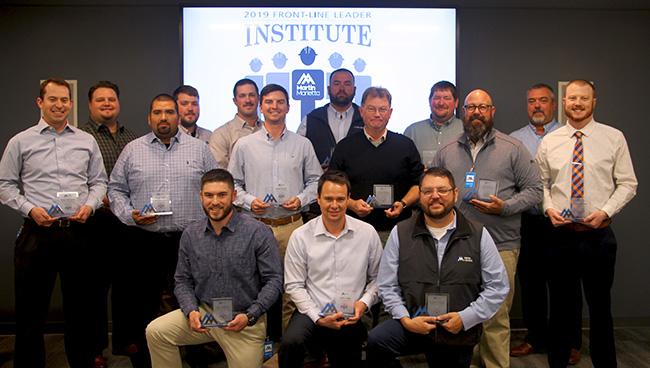 Geiger, who along with Vice President of Total Rewards Kelly Bennett, designed and operated the workshop series, said each of the participants was specifically chosen by the company's various division leaders.
Out of the 17 selected, four received promotions during the course of the program.
"That statistic is reflective of the caliber of individual chosen for this program," Geiger said. "Our divisions selected leaders they believe to be among their best. There was a strong mix of people at different points in their careers as well, which was very nice to see."
Geiger said Talent Development plans to run a similar program for plant managers (the Plant Manager Institute) in 2020 before returning to the Front-Line Leader Institute in 2021.