Hickory Quarry brings diamond elite trophy back to North Carolina
Jul 14, 2022
There's no denying that this year's crop of Diamond Award winners is impressive.

They're Martin Marietta's safest and most sustainable teams.
They're engaged in their communities and living out the company's core values each day. They're committed to continuous improvement. From top to bottom, their people are experienced and knowledgeable. They're past Diamond Honor and repeat Diamond Elite winners. They're Sentinels of Safety. They've earned numerous National Stone, Sand & Gravel Awards. In short, they stand out in a company that is head and shoulders above the rest of the mining industry.
Still, there can only be ONE Diamond Elite winner, and this year that honor goes to the East Division's Hickory Quarry. Recommended by a panel of company leaders and officially selected by Chairman and CEO Ward Nye, the North Carolina operation represents a level of excellence that all Martin Marietta operations should strive to emulate.
Hickory Quarry - Hickory, North Carolina
With more than three decades on the job, Robert Church is an expert in just about all things mining. Though he's seen colleagues come and go over the years as Hickory Quarry has grown and thrived, he says there's something special about the team's current roster.
"We have some great people here," the weighmaster says. "This quarry is an exceptional place to work and that's because the people here care for one another."
With a solid team of 19 in place, Hickory is taking massive strides forward in just about every aspect of its operation.
From a production standpoint, the group's tons-per-man-hour is up more than 40% since 2018; its sales are up about 50% during the same time frame. On the innovation front, the team initiated several changes and upgrades that have made mining at the site far more efficient. In terms of community engagement, Hickory's people are committed to being good neighbors and supporting those who need it most. Importantly, says Plant Manager Brian Hamrick, the site is also safer than it has ever been.
"We have a longstanding safety tradition, and it's one we're proud to uphold," he says. "We challenge ourselves continuously to not tarnish that tradition and to do everything we can to strengthen it."
While honoring the company's Guardian Angel culture, the team holds daily and weekly safety meetings, conducts enhanced SLAMs, and engages in a monthly hazard recognition program. Hamrick says the group has also made a number of modifications to its operation to ensure safety is the top priority.
"We've added steps and catwalks to our conveyors to give us easier access, so it's safer when we perform maintenance," he says. "One of the simplest, but most effective, safety changes we've made involves a green cone system we developed based on a suggestion submitted through our employee suggestion box."
Using the cones, the system outlined specific areas near the site's loadout where customer vehicles can be safely loaded with minimal confusion and maximum safety.
Foreman Rodney Stallings says the team's strong safety performance – they have achieved world-class safety in each of the past eight years – is the primary reason they won this year's Diamond Elite Award.
"Guardian Angel has definitely played a big role in this award," he says. "It's driven safety to the point where we're operating on a stretch of more than 2 million hours without a lost-time incident. It's really an awesome record, and we talk it about it often. None of us wants to be the one to end it."
While the group is highly effective at protecting its own, the people of Hickory are also quick to protect their community.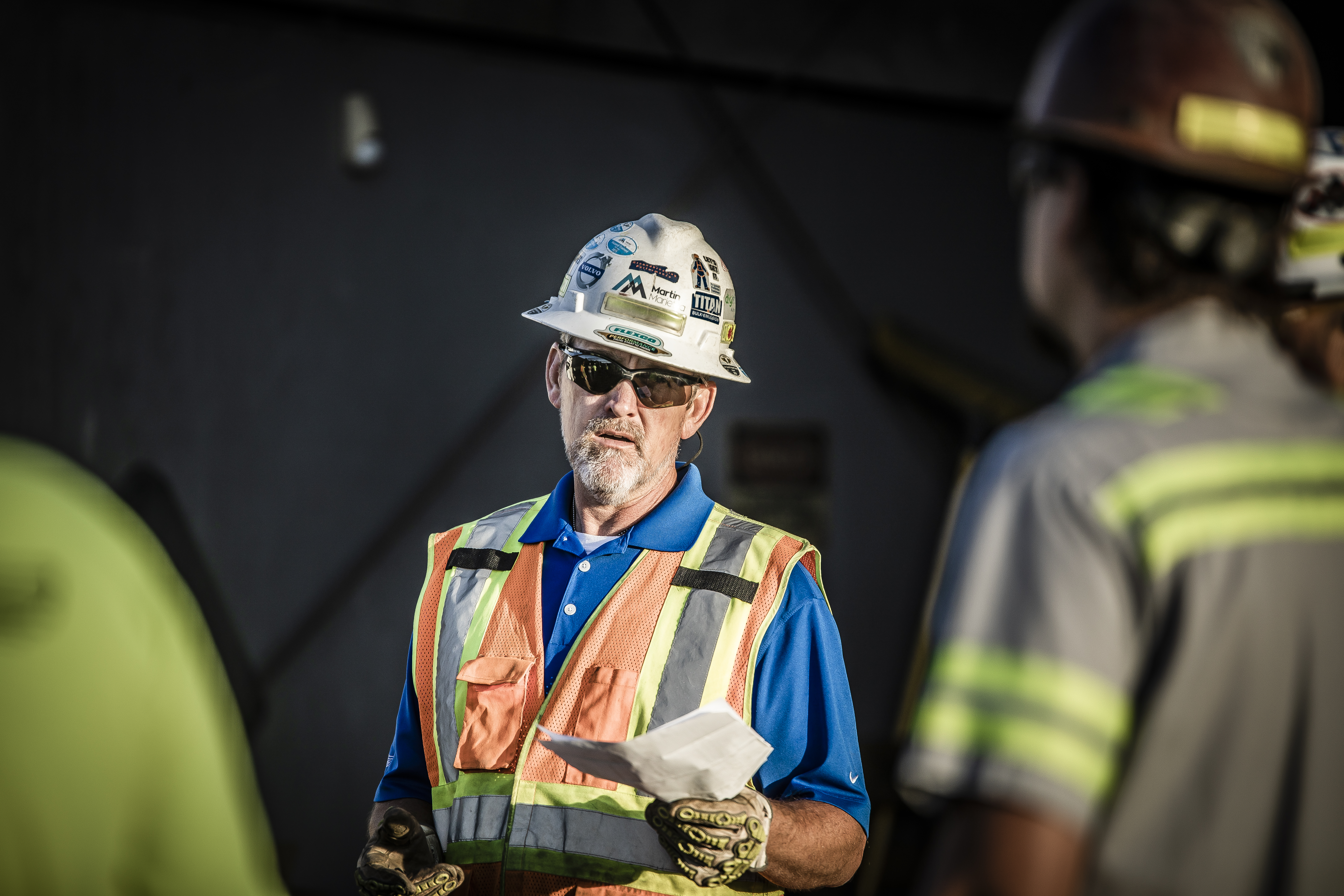 Temporarily interrupted during the pandemic, the site has a long history of hosting elementary school children for educational tours. The operation also sponsors local high school athletes, providing financial support for the Maiden High Blue Devils football team. Throughout the year, and especially during the holiday season, the team also volunteers at and donates to the local soup kitchen.
Quality Control Inspector Ike Baker says each one of the team's community efforts reflects incredibly well, not only on Hickory and Martin Marietta, but on the greater mining industry.
"It's important for the community to know about Martin Marietta," he says. "Mining sometimes gets a bad reputation, but this industry provides the raw materials needed for our roads and homes. Every team in this business is important."
Hamrick agrees.
"It's important that our neighbors understand our values," he says. "Martin Marietta is a big advocate for safety, community, stewardship and so many other values that benefit our communities."
As Hamrick and the team look toward 2023, they're hoping to continue highlighting those values as they keep each other safe and the operation moving efficiently. Should their performance continue to improve, the plant manager is confident Hickory will again be in the mix for the company's top prize.
"The Diamond Elite Award is truly a prestigious award, and we've been absolutely honored to bring the trophy here to Hickory," Hamrick says. "As long as we're able to continue living and working by the core values Martin Marietta has set out for us, we'll definitely be able to make a run at this award next year."
The Diamond Honor award winners include:
Ames Mine - Ames, Iowa
Beckmann Quarry - San Antonio, Texas
Chattanooga Quarry - Chattanooga, Tennessee
Hatton Quarry - Cove, Arkansas
Kentucky Avenue Mine - Indianapolis, Indiana
King Mountain Quarry - Kings Mountain, North Carolina
Lemon Springs Quarry - Sanford, North Carolina
Matthews Quarry - Matthews, North Carolina
Statesville Quarry - Statesville, North Carolina
Troy Sand & Gravel - Troy, Ohio