Charlotte Quarry managers step down after combined century of service
Oct 17, 2019
Plant Manager Mike Hamrick often stood out front, leading a team that's been recognized numerous times for its excellence and dedication. Office Manager Jerry Moss usually took a supporting role, working to make the team's magic appear effortless.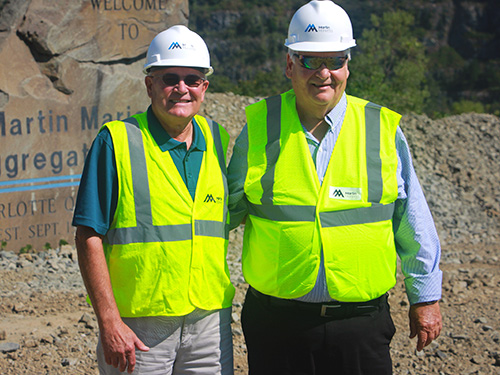 When both men retired from Charlotte Quarry earlier this year, they did so with a combined 100 years of experience.
"Once I hit 46 years, I started to think about how cool it would be to hit 50," Hamrick said. "I think Jerry would have gone earlier, but I talked him into staying for 50, too. A career can be like a good book in that it's sometimes hard to find a stopping place – especially when the story is good. And it was good."
Together, Hamrick and Moss lived it all. They watched friends begin and end their own careers. They experienced the stresses of the Great Recession and the joys of numerous company accolades. The secret to longevity, Moss said, is having the ability to grow, both personally and professionally.
"I know a lot of people who have been with Martin for a long time and, for them, change was hard," he said. "For me, though, change was never that hard. I enjoyed that there was always something to learn, so when the company kept changing, I just kept changing with it."