Construction begins on Martin Marietta Park
Company donation leads to development of massive open space
Aug 22, 2019
Officials in New Bern, North Carolina, broke ground June 20 on Phase I of Martin Marietta Park, a nearly 900-acre open space that once was home to New Bern Quarry.
During a brief ceremony held near the anticipated spot of a future waterfront facility that will host weddings and other special events, city Mayor Dana Outlaw and others spoke about the importance of the space.
"I want to start this whole presentation by saying something three times, so y'all listen to me very good, now," he said to the mid-morning crowd. "Martin Marietta! Martin Marietta! Martin Marietta! You wouldn't be here today if … Martin Marietta hadn't been open to the ideas that we had."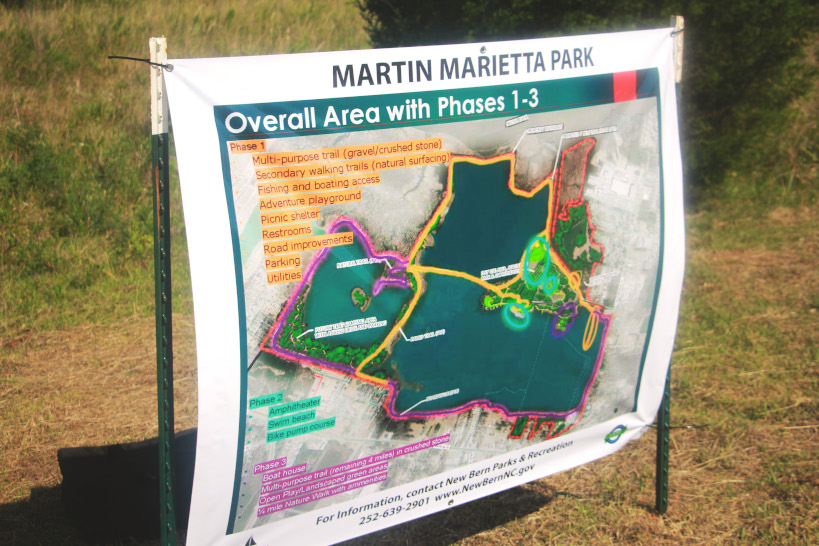 New Bern Quarry produced limestone at the site for nearly five decades until operations shifted to nearby Clarks Quarry around 2000. In the years that followed, the city gradually acquired portions of the property from Martin Marietta at below market value.
In late 2017, NC-East District Vice President-General Manager Buzz Crosby oversaw a donation of the final 55 acres New Bern needed to gain full control of the 888-acre property. The gift, valued at $1.65 million, allowed the city to move forward with the park, which officials believe will be a regional draw.
"Martin Marietta is honored to be part of the city of New Bern's vision for this space," Crosby said after the groundbreaking. "We're proud that this land — which provided the crushed stone needed to build the region's infrastructure — is going to be used in a sustainable manner that will continue to benefit the people of the city, county, region and state for generations to come."
The first phase of construction, which is expected to conclude in spring 2020, will bring improved trails and roads, fishing and boating access, restrooms, a playground, a picnic shelter and parking to the site. Other amenities — like an adventure ropes course and an amphitheater — will be added during additional construction phases as the city obtains funding. Many of the residents on hand to witness the groundbreaking said the park will be a true benefit.
"It means a great deal to us," said city native Jan Cahoon, who attended the event with her 14-year-old grandson, Logan. "This is going to bring people here from other areas, which will be great for tourism. My family will also enjoy this land. Personally, I like to kayak and bike ride. I'm sure I'll also walk these trails nearly every day."