Martin Marietta Helps in California road project
Renovated road opens up travel choices to state's residents
Jul 14, 2023
They say that all roads lead to Rome.
But, with help from Martin Marietta, some of these roads now connect through central California.
After two years of planning, California customers – using materials from Martin Marietta's Fresno and Visalia asphalt plants – have connected San Joaquin Valley residents to a new world of shops, arts, leisure and new businesses.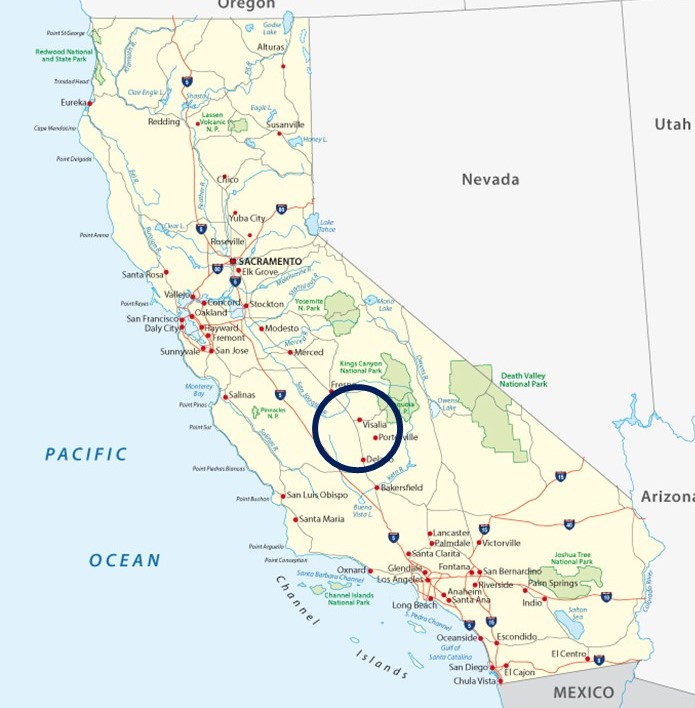 In particular, residents of smaller areas can travel more safely to the growing city of Visalia through the improved Goshen Avenue.
"These improvements are just so exciting for the people living there because this great new road can make it safer and easier to travel," said David Bright, a senior sales representative with Martin Marietta's California Central Valley Aggregates District.
"This opens up a whole new way for families to access new schools, businesses, churches and other local institutions that would have otherwise been much more difficult to reach."
Running just under nine miles – from Lovers Lane in East Visalia to Highway 99 in the Goshen district – the four-lane road connects neighborhoods in West and East Visalia through to the city's Downtown region.
"It is a great connector for the entire area – you can get anywhere you need to go on this
street," Bright said.
And he is not the only one who sees the significant change for Goshen Avenue.
"This project means a lot to a newer part of the community," said Jesse Emmett of Emmett Valley Construction, Inc., speaking on the growing population of the San Joaquin Valley.
"Improvements to infrastructure in this area are important to alleviate traffic issues in the community because of the growth we are seeing in and around Visalia."
Though the project had been in talks for two years, the work took just over two weeks.
Emmett and Bright say the development team accomplished this speedy completion because of the collective work ethic of
all involved.
"First and foremost, because of our team and our work with the contractor, including AJ Excavation, Inc., we were able to knock this project out quickly and effectively," Bright said. "This project took lots of communication between the contractor and Martin Marietta to get the time frames and tonnage daily – that is what made this project such a success," Emmett added.
The process also included working with local governments on the city and county levels since a project of this scope, as expected, also came with a lot of traffic control.
Luckily, Emmett said, this went just as smoothly as working with Martin Marietta and created more protection for the crew.
"We had a strong working relationship with the city that allowed traffic to continue access to the roadway while still completing the work safely," Emmett said.
"A traffic control person working daily to make sure the public and work force were kept safe during construction added an extra layer of safety."
All in all, the revitalization of Goshen Avenue is a great triumph that has made many residents happier travelers.
While projects like this are often overlooked, the lasting impacts for Emmett and Bright go a long way – more so than celebratory bells and whistles ever could.
"There was no grand opening – just congratulations on a project well done by the city and the contractor," Emmett said with pride.
"I am just ecstatic," Bright added. "We were able to help Californians expand their city and give them the opportunity to travel more."