Bridgeport/Chico teams rename charitable initiative to honor co-worker's memory
Jan 15, 2020
A charitable effort that has brought comfort to senior citizens in the Bridgeport, Texas, community for the past few years has been renamed in memory of Janice Hamner, a longtime Martin Marietta employee who passed away in November.
Since 2017, the teams at Bridgeport and Chico quarries have collected, packaged and delivered "Blessing Baskets" to the seniors of the Bridgeport Stagecoach Rehabilitation facility. This past December, they instead delivered "Janice's Blessings."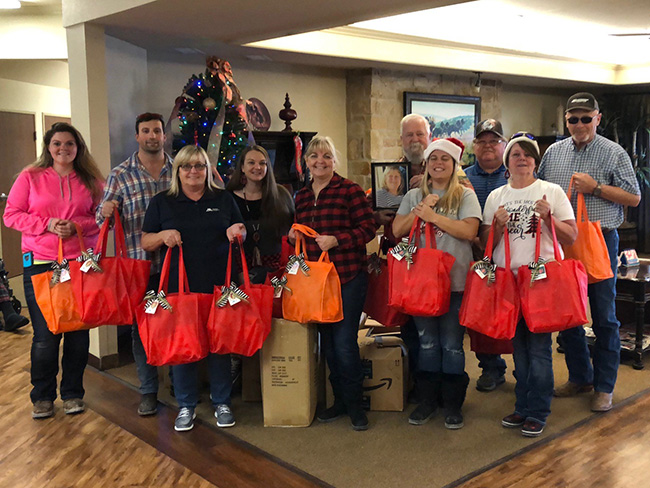 "Janice was the one who initially had this idea," said Administrative Supervisor Lana Abseck, who, along with Customer Service Representative Elizabeth Martinez, helped organize the most recent effort. "She wanted to make sure these seniors – particularly those whose families don't live close by – have everything they need to live comfortably."
Each basket contains a variety of toiletry items along with other minor comforts like blankets, mittens and caps, Abseck said. During the holidays, a group of about 10 volunteers spent a Saturday delivering 115 baskets – one for each of the facility's residents.
Attending the event with them was Don Hamner, Janice's husband. Abseck and Martinez said the group is looking forward to this year's event in December and already has eight baskets prepared for delivery in Janice's honor.